Man caves are an incredible way to show off your passions and personality because they are so customizable. However, because there is no formula to building a man cave, there is a lack of information out there. All you really find on the internet is pictures of other peoples man caves. For that reason, I have decided to create as much helpful content as I can. One of the most vacant areas on the internet is the lack of man cave bar ideas that actually give some insight.
Putting a bar in a man cave adds a lot of value to an already impressive space. Having a bar in any part of your house is quite a cool idea. There is basically no actual information to build a man cave bar. Hopefully these man cave bar ideas will help you come up with a plan for building or renovating your man cave. I have included links to some of my favorite products found on Amazon both inside the article and at the bottom (with pictures).
Football-Themed Man Cave Bar
The football-themed man cave is an extremely popular one. The NFL and College Football are both giants in the sports industry, taking over every screen in the fall. This picture is from an actual college football bar called "The Houndstooth." Not only does the Alabama Crimson Tide have the #1 team in the country most years, they also have the #1 bar according to Sports Illustrated. While this is an article about creating bars in your man cave, a lot can be taken from this bar's design.
How to Create This Look: You are most likely working with a much smaller space, but that actually would make this look work better and for less money. To create a football themed bar, hanging jerseys above the bar shelf is a great idea. Not only does it build the football themed aesthetic, but it gives yourself a chance to showcase your all-time favorite players. This theme also creates the opportunity to hang up other kinds of sports memorabilia, from signed footballs to pictures of big moments and more.
They also have medium-sized televisions at an angle for viewers sitting at the bar. For a bar in a man cave, one or two small televisions should do the trick. Assuming the bar counter is only a few feet from the wall, you should hang the television(s) up flat instead of at an angle.
How to Enhance This Look: Custom bar stools are a great way to show off team spirit. At the expense of pissing off 31 fan bases, here is an example of a Patriots Bar Stool from Amazon (all NFL and large college programs have custom bar stools as well). If you can find the team or teams you root for, this would be a worthy addition to your man cave. As a Boston native, a Patriots, Red Sox, Celtics and Bruins four-piece set would be quite the pick up for my man cave bar.
One other item that could make this football themed man cave bar even better is the Wall Mounted LED Liquor Shelf by Armana. This product has many color options so you can set it to the color of your favorite team. Once the sun goes down, you can fire up these LED lights and really impress all of your guests. This is a perfect example of an affordable item that will add an element to your man cave bar.
NOTES
Find a wall or small space to build your bar.
Use the back wall as the primary location for your memorabilia (jerseys are a great look).
Find an inexpensive medium-sized TV to place on the wall.
Add some custom bar stools to show off your team spirit/pride.
Invest in a bar shelf that can be easily mounted with LED lights already installed.
Baseball-Themed Man Cave Bar
Baseball has been around since 1869. For that reason, baseball memorabilia is treated with a little more respect than most sports. The MLB is a storied league and the jerseys that you choose to hang up in your man cave should bring a combination of excitement and nostalgia. A baseball-themed man cave has a lot of potential. Creating a man cave bar will spark some quality ideas.
How to Create This Look: What made this bar come to life is the spacing. He used the bar to enhance an already impressive living room area. The bar flows seamlessly with the lounge area. To pull this idea off, you need to place the bar behind or next to where the games will be watched. Instead of putting a small television at the bar, put the main television (or in this case series of televisions) in close proximity to the bar. Being able to see the action clearly from the bar is a definite plus.
The fanatic that made this design come to life used jerseys to transition from bar to lounge. Placing memorabilia between the areas makes the man cave look like one congruent space.
The entire space is well lit, especially above the bar counter. The hanging lights make the bar area look a little more sophisticated and the liquor shelves wrapped around the custom artwork only add to that ambiance. The ticker tape over the televisions is the icing on the cake.
How to Enhance This Look: This man cave is outstanding overall. There is not a lot to critique with this set up. My biggest gripe is just the lack of creativity with the bar stools. There is nothing wrong with designing the stools to match the rug, but the stool seat is an opportunity to show some pride for your favorite team. If your man cave is based on a team not just baseball as a whole, consider searching for seats with your team logo on them.
The other issue I have with this man cave is the spacing between the counter and the back row of recliners. The design allows for eight people to sit comfortably while watching a game, which I get. However, to create more room and enhance the bar feel, they could replace the back row of recliners with Furmax Bistro Pub Tables and a pair of BestOffice Bar Stools for each table. This would allow twelve people to sit, and would create a table area for appetizers or snacks. Not only would that be cheaper than four recliners, it will make your bar look even more professional.
NOTES
Find a nook for your bar that leads into a living room area.
Put the entertainment in the lounge area, viewable from the bar.
Place sports memorabilia from the bar to the lounge to create the illusion that the man cave flows into one big space.
Add hanging lights over the bar and invest in a quality bar shelf that fits the design of the rest of the room.
Add some bar stools at the bar counter that either match the room or show off your team spirit.
Place comfortable seating in front of the entertainment area with pub tables right behind. That is it!
Movie Theater Man Cave Bar
Home movie theaters are extremely popular. The "Man Cave Bar Ideas" post would be incomplete if I did not mention this design. One of my best friends had a home movie theater and we loved it. The best part of a movie theater/bar is that people of all ages can have fun. The kids can be up front totally invested in the movie. Meanwhile, the adults can enjoy themselves at the bar, while keeping their kids in sight the whole time.
How to Create This Look: Making a home movie theater is not difficult to create. The problem area is the financial investment. The projector will cost a few hundred but be fairly simple to set up. The biggest financial hit will arguably be the easiest part of the set up. You need either a lot of recliners or rows of three to four cushion couches. If you are looking for seating arrangements, check out our article on "The Best Man Cave Furniture on Amazon (by Price Range)." To ensure that everyone has a quality viewing experience, consider adding platforms to the back rows. Of course, not every movie theater man cave will look like this one, but you do need comfortable seating.
Now that the room is set up, lets focus on the bar. This family did a great job of picking out a granite bar counter that adds value to the room. Choosing to put the counter right behind the back row of recliners is very space efficient and looks great. The height of the bar is just over the last row of recliners which is perfect for the viewing experience.
The last element to really build the ambiance is the lighting. If you have ever been to a movie theater then you will recognize the side lighting that this home movie theater has created. This lighting adds a nice touch.
How to Enhance This Look: This is another design that is really well done. However, all man cave bar ideas can be enhanced. This room only has one massive oversight. The room was built beautifully, but they forgot one thing. The screen itself it WAY too small for this size wall. They could easily double the size of the screen to make this viewing experience more immersive.
Another way to feed into the immersion would be to buy a sound system for the man cave. A large man cave would benefit from some speakers on the ceiling. However, most rooms will be just fine with a normal set up. My last tip is far from necessary, but could make the room less bland. Creating a home movie theater makes showing off your personality a little difficult compared to a sports themed man cave. However, adding movie posters of your favorite movies is a way to make the movie theater your own.
NOTES
Find a big enough room for at least two rows of seating and a bar counter.
Invest in a quality projector and get a good size screen.
Decide on the type of recliner and buy in bulk. It would be smart to place a platform in the back row(s).
Once you have the screening and seating done, it's time to build a bar. Pick a bar that fits the room and place it behind the last row of seating. It needs to be tall enough to see over the row in front.
Add some movie theater lighting to the walls on the side and possibly a sound system.
Throw some movie posters on the wall if it suits you.
Arcade-Themed Man Cave Bar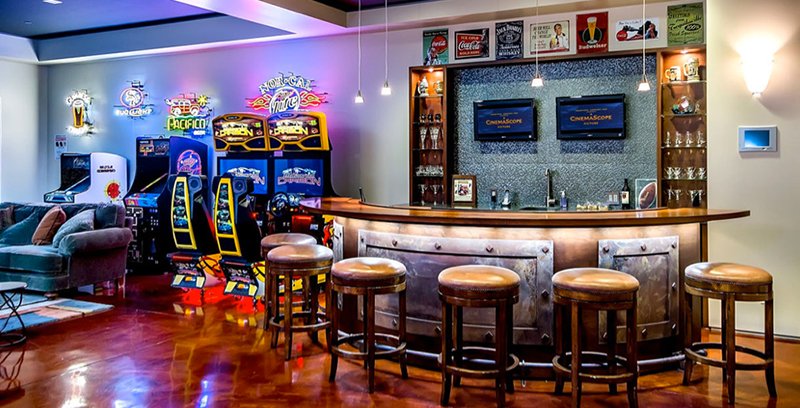 Man cave bar ideas can be fun for the whole family. This environment can still be family friendly despite the high amount of alcohol in the room. The adults can come over and sit at the bar while the kids run around and have the time of their lives. I cannot even imagine how many memories I could have made if either my family or a friend of mine had this set up. Out of all of the man cave bar ideas, this one might be the most creative.
How to Create This Look: This is another design that is not too difficult to set up if you have the budgetary freedom. What makes the actual bar look great is the curved counter. This is a great way to design the bar, especially if you do not have a small nook and need to place the bar in a square room. They made the bar it's own area by rounding off the table.
The liquor shelves on the sides with two small televisions are a perfect way to create some symmetry. Those shelves are also quite easy to set up because they do not have have to be hung up or. The bar stools not only fit the bar but are clearly actually comfortable. If the design is not built around a team then elegant looking stools can really make the bar look sophisticated.
Neon signs are another part that made this creation come to life. Arcade games typically have a lot of bright colors, and neon signs are a way to lean into that look. The last part of this look is pretty self explanatory. You need to surround the bar with arcade games. Amazon's Choice for Arcade games is the 1Up Mortal Kombat At-Home Arcade System.
How to Enhance This Look: Out of all these man cave bar ideas, this one has me the most stumped. The couch looks out of place but I would need to see the whole room for that critique to be warranted. I absolutely love the lights under the bar counter, hanging from the ceiling and the overall attention to detail. My only potential gripe is that this room might not have as much of an arcade feel with the lights off. The bar has a lot of standard lighting, and an arcade room should be colorful. If you can dim those lights in the bar and let the colors of the arcade games shine, this design is top notch.
NOTES
Find the longest wall in your designated man cave area.
Find a rounded bar counter that will fit your man cave to create the base of the bar.
I recommend purchasing stand-up bar shelves here, though the Wall Mount LED Liquor Shelf would be great as well.
The small to medium-sized televisions are a great add that could provide some entertainment for the adults in the room. I would look into buying one or two affordable televisions.
Look to add some neon signs as they really gel with the rest of the room.
Lastly, you obviously need to place some arcade games around the man cave for the bar theme to work.
Music-Themed Man Cave Bar
There were not any great images of music bars on the internet, but this photo has some great points to work with. You could convert the table in the background into a bar counter since the shelves are already in place. The other location for a bar would be a round table in front of the fantastic guitar display.
How to Create This Look: This is going to require some imagination, as the bar is not actually in the room. For the back table conversion, you could add a bar counter. The chairs in the room would actually go pretty well with a bar counter. The other idea would be to put a round bar table as in the arcade design, in front of the guitar set up. Since the guitars are where liquor shelves would typically be, we are going to need a different type of storage. The easiest adjustment would be to build cabinets on the interior of the bar counter. The rest of the room is a great lounge area to play instruments and hang out.
How to Enhance This Look: The walls look pretty covered, but we cannot see the whole room. Framing some vinyls and hanging them on the wall would make for a really cool look. It would also give you a chance to display your favorite artists and albums. If you wanted to really spend some money, a piano would fit in perfectly in the lounge area.
Anyone that would build a music-themed man cave would have to have enough musical talent to entertain some guests, and a piano is a fun way to do so. My last enhancement would be to add a television. Every man cave should have a television and this room does not appear to have one.
NOTES
Find an area to install a bar counter, either flat or rounded.
Place some guitars along the wall to really define the musical theme.
Make sure the bar counter has cabinets along the interior.
Use framed vinyls to show off some of your favorite artists and albums.
Use the rest of the space to create a lounge area to play music and entertain guests.
Add a television to the man cave and possibly even a piano.
Rustic Man Cave Bar
Out of all the man cave bar ideas, this design is the most elegant. Rustic bars can be made from all types of materials. This is a finished wood that was clearly an expensive build. This picture shows a distinguished look. The bar has to be made with high quality finished wood along with some accents of gold and black.
How to Create This Look: The actual bar counter is going to be made from high-end craftsmanship that will likely have to be ordered custom. As for the seating, the Hillsdale Furniture Malone Backless Counter Stool is the closest stool I could find to the ones in the photo. The most important thing you need to do is get the same type of wood. Most companies would have some sort of package to ensure that everything goes together.
If you do not want to go the custom route, the Crosley Furniture Alexandria Expandable Top Bar Cabinet is an all-in-one bar counter with plenty of interior storage. This would not look as good as the one in the picture, but it can be made into a real rustic bar with some bar stools and some lighting.
Rustic bars can also be made with unfinished wood that was cut right from your backyard. This type gives off more of a man made tough vibe. The raw look needs to look like you built it yourself and can be easily decorated with a deer head mounted to the wall and could include a gun rack as a decoration.
How to Enhance This Look: This design is about as good as it gets. The only criticism I would have is that there is a sink on the interior of the counter, and I would move that elsewhere. However, that is a very functional nook, and if it was already built I would likely not make any renovations. Overall, this elegant rustic look is a great one.
NOTES
To build this rustic man cave the right way, have someone build a custom counter and maybe even shelving specifically for your bar.
Find bar stools that will match the design of the bar, aim for black leather, use only gold and possibly maroon accents. That rule goes for the entire section.
Decorations should be artwork of some kind. This is a scenario where you should refrain from sports memorabilia.
Lastly, add some lighting. I prefer hanging lights that illuminate the bar counter.
Our Favorite Products
This type of bar stool would be a quality improvement to ANY sports themed bar area. These stools look so nice while enhancing the theme of your man cave. I found these stools researching for this article and plan on purchasing a set as soon as possible.
Of all the research I did for this article, this product was the hardest to find. There are a shocking number of LED bar shelves that just did not meet the standard I was looking for. The majority of them cannot even be mounted to a wall. What is the point of that?
Eventually I found this simple design that has the durability and the reviews I was looking for. The shelf is easy to set up, and has the LED lights to make the man cave look modern. I strongly believe this liquor shelf would be an improvement for just about any man cave.
This table is not as expensive as some of the pub tables on Amazon, despite being highly rated. You can save some money purchasing a set of these tables without sacrificing quality. Pub tables are pretty rare in man cave settings and can really add to a bar area while standing out. This is one of the best products you can buy when building or renovating a bar area.
These chairs will work perfectly with the pub table above. They are technically bar stools but have enough lower back support to keep you comfortable. The leather makes these chairs look great in just about any setting. This product has been awarded Amazon's Choice and over 500 reviews tend to agree.
The Mortal Kombat At-Home Arcade System is Amazon's Choice for arcade games. The system is only $299.99 and has three different Mortal Kombat games. It is made to be played with two people which is great for the kids. This system made the list for the Arcade Man Cave but would fit into other man cave bar ideas as well. A lot of movie theaters have arcade games so that might be a good fit as well.
The Hillsdale Counter Stool is a perfect seat for a rustic design. If your bar counter does not have a cherry finish, this might not be the exact item to purchase. However, the wood frame with a black cushion is one of most popular designs for rustic bars.
People seem to be killing the overall rating of this product because of the assembly. It appears that the people who assemble the product correctly are very happy, but some people are clearly making mistakes that are ruining the furniture. If you are not confident in your assembly ability, I would consider hiring someone to do it right. When the product is assembled correctly, purchasers are calling it a steal, comparing the item to $1,200 products at places like Macys.
Wrap Up
I really hope this article helped inspire an idea for a man cave bar. All of these ideas are not only popular but have a ton of potential. Personally, I would always lean towards a sports-themed man cave and bar. Keep in mind, I decided to cover two of my favorite sports, but the same structure can be used to build any sports-themed man cave. You could apply the tips I provided to create a man cave about basketball as a whole or specifically the Celtics. Same goes for any other sport or team.
While I definitely lean on the sports side of man caves, all of these designs can look really cool. I nearly convinced myself to make a home movie theater, and who wouldn't want an arcade in their basement? There is also opportunity to blend some of these man cave bar ideas. For example, a home movie theater with some arcade games could create a killer design.
This article was about man cave bars. However, in order to create a themed bar, it needs to match the rest of the room. What this article is really about is finding a man cave theme where you will place your bar inside. If you get overwhelmed with the thought of renovating an entire room, do what I did.
All you really need to do is break down the room piece by piece. Start with the back shelving, then move to the bar counter. Then find bar stools and the area is already coming together. The last step is to add small things like lighting and decorations. That way you can make a step-by-step plan to bring some much needed order to such a chaotic process.
This was a long article designed to give some clarity to an area of the internet with a lack of information. If you found this article helpful, check out our man cave page!